Your Carpet Experts in Phoenix & Chandler, AZ
At Carpets of Arizona, our Mission is "To be Arizona's premier home service provider by delivering a world-class experience to our clients and providing a fantastic culture for our dedicated employees to thrive".
Don't like the color, style or texture of your carpet after it's installed?
This is why we offer the Vision Flooring Love Your Carpet Guarantee.
We'll replace it for FREE
Say you're having trouble deciding between two colors of carpet, we'll call them color A and color B. You look at both colors in all sorts of different lighting scenarios and finally settle on color A. We get it ordered, we come out to install and you see that first room installed and your heart stops. "Oh no, I should have picked B!" That's NO PROBLEM at Vision Flooring.
What's The Catch?
If you're anything like our past clients, you're sitting there thinking "What's the catch?" So that we're completely open and honest, here are all the 'fine print' details regarding the Love Your Carpet Guarantee:
The original invoice must be paid in full.
You must make us aware that you wish to utilize the 'Love Your Carpet Guarantee' within 30 days of the Installation.
Your new carpet selection must be of equal or lessor value and from the same manufacturer. If you want to upgrade your carpet at this point you will only pay the difference on the retail price. (example: You purchase a carpet that is $7.36/sqft and re-select a carpet that is $8.36/sqft, you would pay the difference of $1/sqft)
That's it. Not too much 'fine print' there because at Vision Flooring it's not enough to just have happy customers, we want to wow you with our service and make you a RAVING FAN!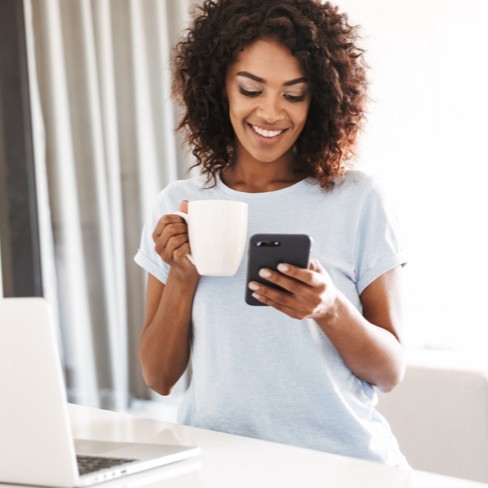 Have Carpet
Questions?
From installation and care and maintenance to understanding what different carpet specs mean and how they will serve your home, our carpet experts are ready to answer your questions. Greater carpet knowledge will help you have the ultimate confidence in the stunning products you bring home!
Room Visualizer
Leave nothing to the imagination. With our room visualizer, you can see our products in your home before you buy.
Carpet Services in Phoenix & Chandler, AZ
Gorgeous carpet is an incredible investment for families and businesses that want to craft a relaxing, warm layout. Vision Flooring offers expert carpet services to help maintain and care for these attractive, plush surfaces.
CARPET BINDING
When you are looking for soft surface solutions in your home, carpet binding can create the perfect area rugs to fit unique spaces:
CARPET CLEANING
Periodic professional carpet cleaning is an outstanding way to help preserve the stunning soft surfaces in your rooms:
CARPET QUESTIONAIRE
What type of carpet constructions, fibers, and visuals would you like to explore? Our carpet experts are ready to help today:
Ready to get started?
With our special financing offers, it's never been easier to bring home the flooring you love to uplift the entire household. We can't wait to assist you in every way and help you achieve your ultimate vision!

FINANCING
AVAILABLE
Fall in Love with Your Floors Now and Pay Later!
Unbeatable
Warranty
Lifetime installation warranty
+
Love Your Carpet Guarantee